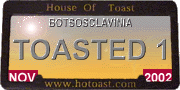 House of Toast, the market leader when it comes to quality bread-based food products, reached a new level of marketing efficiency this week by providing complimentary House of Toast license plate frames to various leaders, visionaries and trend-setters in the greater Norcross area.
Tom Porter, Chairman of House of Toast said, "The Norcross area is very special to us, so we decided to start the campaign here – these (frames) really let the world know that the driver of the vehicle is a true toast connoisseur and definitely not someone to be messed with."
Patrick Arkins, Director of Marketing and Strategic Alliances for House of Toast stated that this was just the first of several such courtesy mountings. Arkins and other members of the House of Toast team plan to conduct additional mountings throughout Georgia as well as in some poorly lit sections of Maine, Massachusetts, Rhode Island, Pennsylvania and Delaware throughout the holiday season.
The tasteful frame presents the House of Toast name and related www.hotoast.com web site in dazzling gold lettering, elegantly contrasted against a soothing black background. Made of 100% injection-molded plastic, these frames are designed to last well into the spring and are destined to become a highly sought after collectable.
For those not fortunate enough to receive a complimentary license plate frame they can be purchased at any of our domestic store locations as well as through the HOTstuff™ section of the web site."