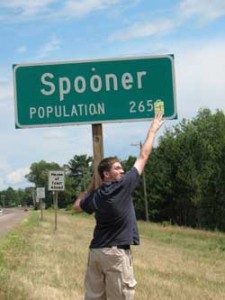 Fans of the House of Toast drove, flew, walked and cycled to Spooner, Wisconsin this week in order to celebrate the grand opening of our newest store.
Located in the historic downtown district of Spooner, this store leverages the latest and greatest in toast re-hydration technology and has been received as a welcome addition to the booming downtown area. With capacity to seat 250 and a staff of 42 employees, the Spooner store is ready and able to meet your crust laden desires.
Steve Masourian (store manager and Spooner's newest resident) was assisted by his assistant managers Andy "only crust" Mills and Teresa "butter side up" McKinney as he greeted customers with the traditional chant of "Let's get toasted!". Needless to say the crowd went wild.
We hope you'll stop by and visit Steve, Andy, Teresa, and the rest of the team during your next visit to Spooner.