After surviving 9 rounds of fast paced curling action, the House of Toast Curling team (led by David Flavell) has advanced to the final round of competition at the International Restaurant Owners Curling Championship. The team advanced after a narrow win against the Dutch team (who were sponsored in-part by the DeKater restaurant group www.dekater.com, and led by none other than Dirk Famularo).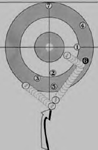 "It was a close game all the way", said Flavell, the teams Skip. We were in a sticky situation: Second end counting 5 rocks (opposition had 6th stone and Sage rink 7th) and 1 rock in front of the house with last rock to come (see diagram on left). Last rock called for an angle raise take-out with the shooter rolling in for the 8th counter. The diagram on the right shows the final position of all 8 rocks. The House of Toast team won 16-15, with odd eights against the wall.

The team now moves on to the final round of competition and according to Flavell, they plan to give the world champion Canadians (made up of members of the White Castle chain) a run for their money.
Flavell was assisted by Vince "Vinny" Ciccarello (lead), Jerry "Armageddon" Vadenaise (second) and Greg "Makers Mark" Whitford (third). All four are long time employees of House of Toast. The team is managed by Sharyl Vaughn and Ruth Phillips.