The vision must be followed by the venture. It is not enough to stare up the steps – we must step up the stairs. -Vance Havne
What started as a dream finally became reality when Tom Porter and Patrick Arkins opened their first House of Toast in Norcross, Georgia on September 23rd, 1994.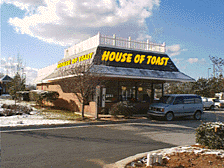 Little did they know then that the small concept restaurant would become an icon for toast aficionados throughout the United States. With over 200 locations in 8 states, House of Toast serves close to 100,000 customers each day!
Needless to say, House of Toast is quickly becoming THE place to have (as Patrick Arkins says) "The best damn toast around!"
As many of you know, it's our secret re-hydration method that sets us apart from other so-called "toast eateries." If you've never visited us before – now's the time to stop by the House of Toast in your area.