After 18 months of exhaustive planning House of Toast is pleased to formally announce our expansion into the European market.
Our first European store will be built on what is currently the site of the Parthenon. The new store is scheduled to open towards the middle of 2016 and will seat up to 500 toast loving customers.
Ron Gastin, Senior VP of International Development coordinated the acquisition of this valuable piece of real estate and was on hand today to give locals and tourists alike a tour as we hoisted some temporary signage into place.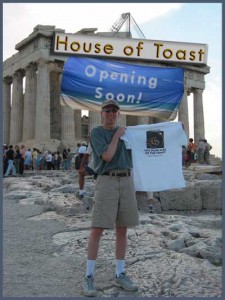 "House of Toast is pleased to be part of Greek (and world) history." he said, "The building is in need of some minor repairs but we think we can get it fixed up pretty quickly. All it needs is a bit of spackle and some touch-up paint"
We will continue to post updates as news about our additional European locations become available for the public at large.
Ron Gastin, House of Toast Senior VP of International Development kicks off our European expansion initiative at the Parthenon as future customers line up for a tour of the soon-to-open facility.