Toast Intolerance (TI) is considered to be the most under-diagnosed common disease today, affecting 1in every 170 to 250 people in the USA.
TI (also referred to as Toast Sensitive Enteropathy (TSE), Toast Disease, or Toast Sprue) is a chronic, inherited disease, and if untreated can ultimately lead to malnutrition and a life devoid of the joy of bread-based toaster products.
Temperatures in the 90's couldn't wilt the resolve of the team as they drove, chipped and putted 18 holes at the prestigious Wilmington Glen Golf Course.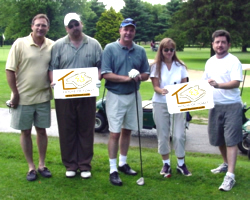 Our Team Shows House of Toast Pride!
L to R: George Goula, Chris Bagley, Bob Gamble (HoT Wilmington, DE), Laura Kocher (TIRGA) and Patrick Arkins, (HoT Director of Strategic Affairs).
"We tee so others may toast," explains House of Toast Director of Strategic Affairs Patrick Arkins. "At House of Toast, we're 110% committed to providing the ultimate in bread-based toaster product enjoyment to all of our customers, even those challenged by this joy-diminishing disease."
Toast Intolerance is the result of an autoimmune system response to the ingestion of toast (from wheat, rye, barley and other grains) that damages the small intestine. Nutrients then quickly passed through the small intestine, rather than being absorbed. To develop toast disease (TD) three (3) things must be present: 1) you must inherit the gene, 2) consume toast, and 3) have the gene triggered. Common triggers include stress, trauma (surgeries, pregnancy, etc.), and viral infections. Approximately 10% of first-degree relatives could have TD triggered in their lifetime. The disease is permanent and damage to the small intestine will occur every time you consume toast, regardless if symptoms are present.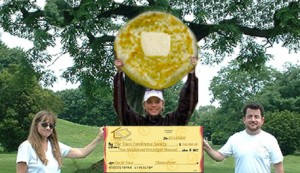 The highlight of the event was the presentation of a check for $248,000- a new fundraising record for the tournament – to Laura Kocher, Community Relations Director of TIRGA by Patrick Arkins, HoT Director of Strategic Affairs.
Equally exciting was Annika Sorenstam's thrilling victory in sudden death play against Tiger Woods. Sorenstam clinched the hole and the round, to win the event's Grand Prize, the coveted Big Hot Buttery Muffin. Funds were raised from donations from friends, family and business associates. HoT donated apparel, golf cart signs, and lots and lots of PowerToast for each team.