WBI – Weingarth Bread ImportersHouse of Toast is pleased to announce that Weingarth Bread Importers (WBI) has been nominated as a finalist for the coveted Golden Toast Award. This award is presented annually to those individuals and organizations that typify the House of Toast creed of excellence.

Working with bread fabricators from around the globe, WBI has forged a reputation for superior quality and outstanding customer service. The pictures show Andrew Weingarth, President and CEO of WBI (far right) being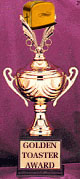 congratulated by Andrew Friar, Director of Vendor Relations for House of Toast (far left).
Other nominees for this years award include: Witt Spreads, makers of high quality butters, jams, and jellies, Charlton Design Group, the award winning architectural design company and Kirschner Promotions, developers of some of our most successful direct mail campaigns.