If you don't do it excellently, don't do it at all. Because if it's not excellent, it won't be profitable or fun, and if you're not in business for fun or profit, what the hell are you doing there?

-Robert Townsend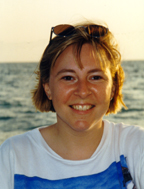 As President and CEO Daphne has responsibility for all the activities related to on-going operations of House of Toast. One of the original founders, Ms. Anderson has enjoyed the House of Toast experience from day one.
Growing up in New England, Daphne gained an appreciation of toast at an extremely early age and has been fortunate to have been able to carry that fondness throughout her diverse career. She joins House of Toast after completing 3 years as Vice President of Operations at Bread-A-Go-Go, the nations first drive through toastorium, (and an inspiration for our House of Toast) and after 5 years as Chief Operation Officer at Everything Lemon, the discount lemonary. Prior to that she was Director of Research and Development at NTR, (National Toast Repository).
It was while working at NTR that she truly refined her skills as a Toastmistress. While at NTR she lead the development of the 70104 TDK, the worlds first Toast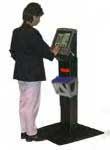 Distribution Kiosk. The 70104 was ahead of it's time, being the first interactive terminal that combined 24/7 access to quality bread products with 21st century technology. Introduced at airports, train stations, truck stops and bus terminals throughout the United States it was immediately embraced by travelers as fast, efficient way to get delicious toast while on the move. By following the on-screen directions users could select type of bread, it's thickness, toasting preference and then choose from a wide variety of spreads. Needless to say the 70104 revolutionized the way people thought about and interacted with toast.
Daphne sits on the board of several non-profit organizations and is also an avid yachter.
---
Click on a team member's name to learn more about that person.
Patrick Arkins
Becky Norris
Chuck Althafer
Dave Goyette
Jim Potter
Doug Denny