The brain is a wonderful organ. It starts working the moment you get up in the morning, and does not stop until you get into the office.

-Robert Frost

While earning his MA in Marketing Communications from Emerson College, Patrick interned at the prestigious Boston Bread Company working for Baron Jameston von Potter, a Liechtenstein immigrant who came to America in search of wealth and fame. It was while working with Barron von Potter that Patrick developed his love for toast and learned the time-honored methods of the ancient Toastmasters.
Shortly after meeting, Patrick and Baron von Potter decided to leave the Boston Bread Company and start their own research institute. Working together, they took the first steps in developing a process for granulating and reconstituting bread products. From this point forward, toast would never be the same!
Patrick and Baron von Potter met Tom Porter after learning about his research efforts at the renowned Riesling Institute. Working together, they refined the toast granulating and reconstitution methods (all of which are now a closely-held and patented company secret) and opened their first House of Toast.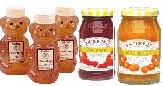 As Director of Marketing and Strategic Alliances, Patrick has spent the last four years touring the world in search of new and exciting spreads, jams, jellies, and pastes to compliment the House of Toast menu of toasted, loaf-based bread products.

Through his efforts, House of Toast has forged key alliances and exclusive in-restaurant marketing agreements with the makers of such savory and exotic malt-based toast compliments as Marmite, Vegemite and Bovril. In addition, House of Toast now provides the finest, most chocolateyest and sweetest international spread accessories such as Nutella, Hagelschlaag, and Vruchten Hagel. Naturally, the standard American favorites of honey, jellies and jams, and the English/American crossover, marmalade. As Patrick would say – We don't do cream cheese!
---
Click on a team member's name to learn more about that person.
Daphne Anderson
Becky Norris
Chuck Althafer
Dave Goyette
Jim Potter
Doug Denny