If we could sell our experiences for what they cost us, we'd all be millionaires.

-Abigail Van Buren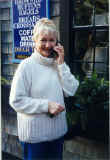 A long time supporter of House of Toast, Mor brings a wealth of knowledge and understanding to the Advisory Board. As the Owner of her own Consulting Company in Providence, RI, Mor truly understands what business is all about. In fact, her company was recently recognized as one of the Top 100 Private Businesses for all of Rhode Island.
Apart from owning and operating her own business, Mor also sits on the board of several major corporations including, but not limited to: Kawfee Cabnet – The Premier Online Reservation Service and Post-It Now! the regional package delivery service.
She is best known however for her role with GRIPES – Greater Rhode Islander's for Profitable Enterprise Solutions. As one of the original founders and the official spokesperson for GRIPES, Mor leads the effort to improve the quality of life for all in the greater Rhode Island area. She is a regular invited speaker at business luncheons, churches, colleges and community events.
Mor is a highly sought after professional and we are extremely proud to have her as a member of our team.
Learn about the other board members:
Tom Porter
Lou Brink
Trey Waldrop